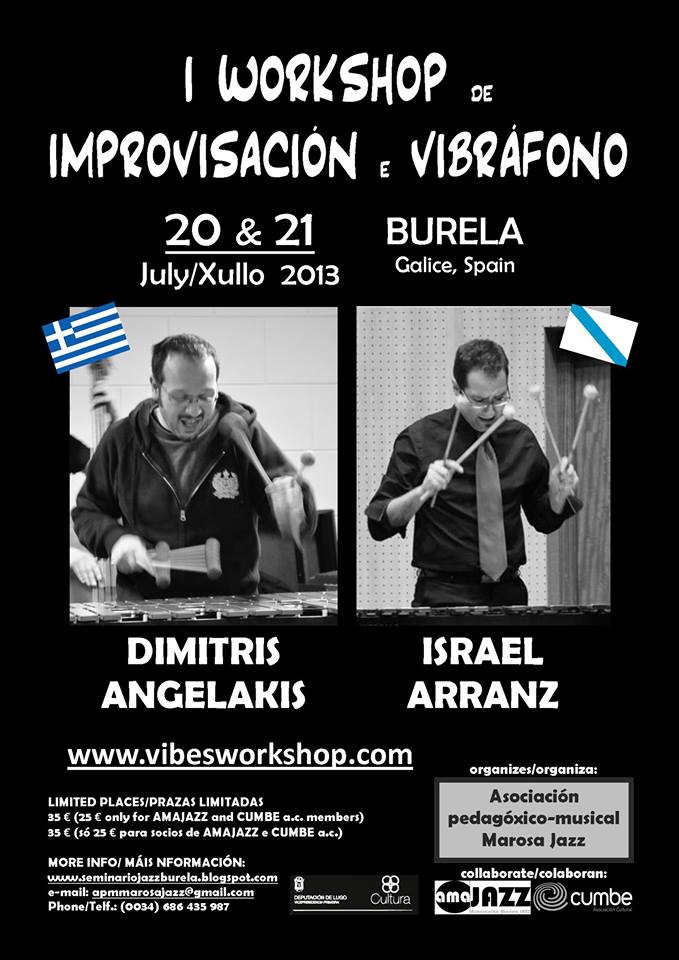 Hi to everybody:
As some of you know, Dimitris is going to come where I am from (Burela, Galice, Spain) the 3rd week of July. After the wonderful Wuppertal workshop I commented Dim the possibility to come to Spain to do some gigs with my latin-jazz fussion quartet (Marosa Jazz Project), because he had told me he loves latin music too. So, we started to organise all... During 15-19 July will be the VI Jazz and Modern Music Seminary of Burela and Dimitris will be the guest artist in this event (class all the day and concerts and jam sessions every night). However and unfortunatly, this is the same week the Ireland workshop, so, I will not can go this year there.
Well, after the Seminary of Burela, I wanted all my students, and, all galician music and jazz students have the opportunity to know Dimitris and Dimitris can teach them some things and doubts. So, I though to do a little workshop of improvisation and vibes (thinking in any player in general, and, vibes player in specific). After this idea, as Dim and me are members and subscribes of www.vibesworkshop.com, and I always talking my students about the site, I though it would be a great idea do a promo of the community and to try to show them too, what is the site, the community, the spirit, the sense... to share with all them and, all them can look how all us study, work hard on vibes, how we help between us, ...
This event it will be the firs contact, and, an experiment in this sense. Dim and me are going to work hard in this sense to show them about the vibes, the communitity and the site. Here, we are doing an important difussion through press, blogs, ... It is very important we have here good results, because, in the future, we could have support by public administrations, so, who knows... In the future we could have an official support from the administration for doing a workshop in Spain...? I don´t know. It is clear this would be great. The thing I know, is we are going to do the best we know to try this be a success. In this sense, I would be grateful with all you if you comment ideas, critics, auto-critics... it will be welcome all you can say to help.
http://www.seminariojazzburela.blogspot.com.es/p/i-workshop-de-improvis…
I hope you like the poster.
Thank you very much.
Israel Arranz